First Choice
Untamed Pilbara & West Coast
13 Day Guided Vacation

|

Broome to Perth
Travel Period
The northern reaches of Western Australia unite some of the most diverse, and dramatic, landscapes in the country. From yawning red-rock gorges to blissfully blue marine parks, powdery white beaches to fiery orange sunsets, a colourful journey awaits. Your itinerary takes you from below the surface of the sea at Ningaloo Reef, to soaring above it at Horizontal Falls, with Karijini, the Pinnacles and Monkey Mia just some of the postcode-perfect places in between.
Prices From
CODE: WBMP
$
6486
Adult Twin i A person 16 years and over (note a person 16–17 years must be accompanied by a person 18 years and over). All prices are per person, land only unless otherwise indicated.
Above lowest price is based on 2024-05-15 departure
$
8972
Single i A person, who must be 18 years and over, travelling alone, must pay the single room price. All prices are per person, land only unless otherwise indicated.
Above lowest price is based on 2024-05-15 departure
Prices above are per person in USD
Single rooms are limited and subject to availability
Child prices may be available on request


guests

considering this tour

See dates & prices
Request a quote
Secure your trip with a deposit
Trip Details
What's included
• Specialist team of two highly experienced Travel Director and Driver Guide
• 2 UNESCO World Heritage Sites – Ningaloo Coast & Shark Bay.
• Centrally located premium hotels
• Arrival and departure private airport transfers
Dining
• 12 Full Breakfasts
• 8 Dinners with Wine
• 1 Farewell Dinner
Flight Information
Day 1 – flights to arrive prior to 3.00pm into Broome Airport
Day 13 – flights to depart anytime from Perth Airport
Flights are not included in the holiday price
Return airport to hotel transfers are included in the holiday price
What to Bring
• Warm layers in cooler months
• Camera
• Comfortable walking shoes
• Sunglasses, sunscreen and hat
• Water bottle
Fitness Requirements
Extreme temperatures can be experienced in this remote region of Australia. Guests should be made aware that this trip is recommended to guests with a moderate level of fitness.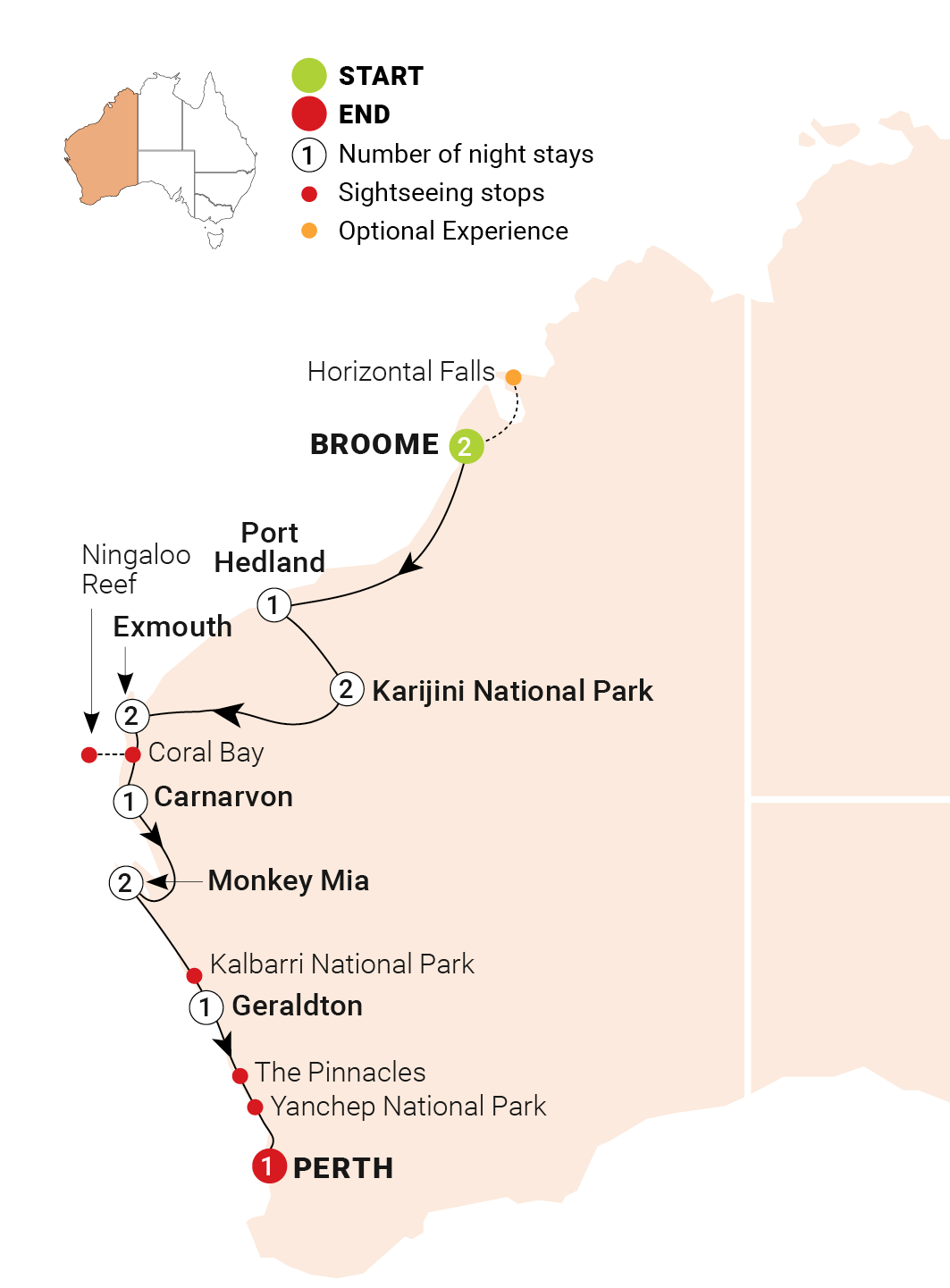 Please note: This itinerary may be subject to change.
Untamed Pilbara & West Coast
First Choice
13 Day Guided Vacation
Broome to Perth
The northern reaches of Western Australia unite some of the most diverse, and dramatic, landscapes in the country. From yawning red-rock gorges to blissfully blue marine parks, powdery white beaches to fiery orange sunsets, a colourful journey awaits. Your itinerary takes you from below the surface of the sea at Ningaloo Reef, to soaring above it at Horizontal Falls, with Karijini, the Pinnacles and Monkey Mia just some of the postcode-perfect places in between.
Highlights
Local Connection
Launch into the sky at the Carnarvon Space Museum, then take a deep dive below the surface while cruising World Heritage-listed Ningaloo Reef.
Cultural Immersion
Noongar culture and Dreamtime history shine bright on an adventure through Yanchep National Park with charismatic Derek Nannup.
Sustainable Footprints
Your national park fees protect the places you visit, ensuring this fragile part of the world will be around for future generations to enjoy.
Wildlife & Nature
We'll forgive you for not wanting to leave Karijini National Park, a magical place where waterfalls drop into turquoise rock pools. A salve for the soul.
Accommodation
Your Guided Holiday includes a range of quality accommodation for your comfort.
The accommodation you will enjoy on this tour includes:
Day 1 - Cable Beach Club Resort
1 Cable Beach Rd, Broome, WA 6725
Take one idyllic, seaside location – complete with spectacular sunsets, gently swaying palm trees and Kimberley charm – add the finest food, unique experiences and luxury indulgences; and you have the ideal setting for a memorable holiday.
Welcome to the magnificent Cable Beach, home of the award-winning Cable Beach Club Resort & Spa – a holiday destination like no other. Your stay will be full of surprising wonders and endless ways to reconnect; with nature, your partner, your family and yourself.
Cable Beach Club offers a place to unwind, with two glistening pools, delicious cuisine at a choice of three restaurants, leisure facilities, the first Australian L'Occitane spa and a personal touch to every experience.
Features
Private veranda or courtyard
Ensuite
Shower
Air-conditioning
Ceiling fan
TV
Foxtel
iPod/iPhone docking station
Wireless Internet access
ISD/STD phone
Tea & Coffee Facilities
Mini Bar
Refrigerator
Hairdryer
Iron / Ironing Board
In-room safe
1/8
Day 3 - Hospitality Port Hedland
Webster Street, Port Hedland Western Australia, 6721
Located in the Pilbara Region of WA, Port Hedland is a dynamic town - one of Australia's largest ports and the Centre of the iron-ore industry in WA.Overlooking the blue waters of the Indian Ocean.
Overlooking the blue waters of the Indian Ocean, Hospitality Port Hedland is located just over 3km from the Port Hedland Centre, We offer comfort and country hospitality with spacious, affordable and well-appointed rooms.  After a delicious breakfast in our 'Pilbara Room', relax around the swimming pool and BBQ area to enjoy that casual meal, or spend the day exploring the local sights of Port Hedland and surrounding areas. 
Features
Fridge
Hair Dryer
Iron / Ironing Board
Tea & Coffee Facilities
Foxtel
2/8
Day 4 - Karijini Eco Retreat
An environmentally friendly Retreat and Campground, nestled in the pristine bushland at Joffre Gorge - in the heart of the world class Karijini National Park.
Alongside the outback bush camping experience, the multi award winning Karijini Eco Retreat is the first and only facility to offer comfortable glamping accommodation in the Park! Offering quality accommodation and facilities, the management and staff look forward to welcoming you to a unique world of environmentally friendly, affordable accommodation and camping options with a touch of luxury and a taste of genuine mateship and hospitality in outback Western Australia!
Features
Barbecue facilities
Linen
Ensuite
Solar Power
Front and rear deck
Natural ventilation (No air-conditioner)
Rechargeable lantern
Minimal power for low wattage applications
3/8
Day 6 - Mantarays Ningaloo Beach Resort
Lot 900 Madaffari Drive, Exmouth WA 6707, Australia
Novotel Ningaloo, the only resort on Sunrise Beach, is your gateway to the world heritage-listed Ningaloo Reef and the Cape Range National Park. Guests can enjoy a relaxing holiday escaping the winter chill or an action packed holiday taking part in the many activities the region has to offer.
Novotel Ningaloo, in the Exmouth Marina, has opened 68 of the planned 150 rooms, servicing the growing popularity of the nature based tourist destination.
The deluxe development includes a range of hotel rooms and one and two bedroom self contained apartments. Three bedroom apartments are available on request. The complex includes Gold Plate Award winning Mantaray's restaurant, bar, lounge, resort-style swimming pool and gym with stunning beaches right outside your door.
Features
Air Conditioning
Tea & Coffee Facilities
Swimming Pool
Gym facilities
Laundry Service
Internet Access
Direct beach access
Room service
4/8
Day 8 - Best Western Hospitality Inn Carnarvon
6 West Street, Carnarvon WA 6701
We offer comfort and country hospitality. After a delicious breakfast with us, you may care to choose a relaxing day - take a day out  at the Banana Plantation, relax by our swimming pool, have a coffee, or just enjoy a casual meal in our attractive alfresco garden dining area. Or you may wish to explore the local sights of Carnarvon and surrounds.   Reminisce on the day's adventure and dine in with us at 'Sails', our fully licensed, a La carte restaurant, offering high quality food at affordable prices.  There's something for every palate as well as a special children's menu for children 12 years and under.
Features
Swimming Pool
Tea & Coffee Facilities
Air Conditioning
Refrigerator
Hair Dryer
Iron / Ironing Board
Wi-Fi
Flat Screen TV
In-house movies
Room service
5/8
Day 9 - Monkey Mia Dolphin Resort
1 Monkey Mia Road, Denham (Shark Bay), WA 6547
Located in the heart of Western Australia's Shark Bay, Monkey Mia is one of the world's premier natural dolphin sighting areas.
Features
Air-conditioning
Ensuite
TV
In-house movies
Refrigerator
Tea & Coffee Facilities
Balcony or Terrace
Linen
6/8
Day 11 - Mantra Geraldton
221 Foreshore Drive Geraldton, WA 6530 Australia
Looking for somewhere to stay in Geraldton? You want location, you want comfort, you want value. Mantra Geraldton hotel has it all and it's right on the Batavia Coast Marina, Champion Bay.
Mantra Geraldton's spacious apartments are close to the region's best attractions like the Western Australian Museum, Geraldton CBD and the HMAS Sydney Memorial.
Features
Swimming Pool
Barbecue facilities
Room service
Internet Access
Laundry facilities (Self-Service)
Private balcony
Air Conditioning
7/8
Day 12 - Crowne Plaza Perth
54 Terrace Rd, Perth
Crowne Plaza Perth is located in the heartland of beautiful Perth Western Australia with picturesque Langley Park at the hotel doorstep. An upscale riverside hotel with spectacular views of the city's iconic Swan River and just minutes from the Perth CBD, Crowne Plaza Perth is in the ultimate location.
Easy reach of the city and its many attractions make this Perth hotel the ideal place to stay whatever the occasion or reason for travel. The natural surrounds are ideal for relaxing and recreation, while onsite parking and free public transport make it simple and convenient to get around town.
Features
Ensuite
Flat Screen TV
In-room Movies (fee applies)
Air-conditioning
Refrigerator
Coffee/tea making facilities
Iron / Ironing Board
Hair Dryer
Bathrobe and slippers
Gym facilities
Laundry facilities (Self-Service)
Swimming Pool
8/8
Previous
Next
Optional Experiences
Please note, prices for Optional Experiences are subject to change.
To ensure your holiday is filled with memorable experiences, we have included a range of quality Optional Experiences for you to choose from and partake in, if you wish, during your holiday. The experiences can be booked on tour through your Travel Director.
Broome Cruise - Sunset, Seafood & Pearling Cruise (Broome )
Adult: $389.00
Senior: $369.00
Join in harvesting wild Cygnet Bay pearl oyster shells from the sea, then taste rare pearl meat delicacies as one course of our menu. Feast on an exquisite 7-course banquet, prepared by our onboard chef, using fresh, local, seafood and ingredients. Sip on free-flowing, premium, sparkling and still wines, local beersand soft Drinks - fully inclusive and served throughout your cruise. Relax on board while anchored overlooking glorious Cable Beach, with white-tablecloth, full-service dining. Gaze in awe at the golden sunset from one of three decks on our deluxe vessel and take in this unforgettable, breathtaking journey of the senses.
Didgeridoo Dreaming - Aboriginal Night Tour (Monkey Mia)
Adult: 90.00
Child: $50.00
After the sunsets relax around a campfire with didgeridoo meditation. Your local aboriginal host will teach you about local Aboriginal culture and history. As the fire flares up some cooking of bush tucker or seafood over the open campfire begins as you are stepped through how to play the didgeridoo.
Francois Peron National Park 4WD Tour (Monkey Mia)
Adult Price: AUD 229.00   Child Price: AUD 229.00
This is a full day trip adventuring through a spectacular, special piece of earth, right where outback Australia meets the coast. Your tour is a combination of cultural history, sensational scenery, fascinating plants, wild animals and bush survival skills. Includes lunch, morning and afternoon tea, sunscreen, use of binoculars, polarised sunglasses and an expert local guide.
Pearl Luggers Museum Tour (Broome)
Adult Price: AUD 30.00   Child Price: AUD 15.00
Through daily guided tours and enthralling stories learn of the impact pearling has had upon Northern Australia and why such a large number of nationalities were enticed, often by force, into our pearling industry. Experience what it was like to be a pearl diver and discover why so many put their lives at risk. See two of Broome's last remaining wooden pearling luggers, taste the exclusive pearl meat from the pearl oyster, view artefacts from the early perilous days of deep sea pearl diving, and see a pearl valued in excess of $100,000.
Shark Bay Scenic Flight (45 min) (Monkey Mia)
Adult Price: AUD 245.00   Child Price: AUD 245.00
A 45 minute scenic flight crosses Freycinet Reach to the fascinating patchwork of salt ponds at Useless Loop. It then crosses the sandy finger of Bellefin Prong and out over the rugged Zuytdorp Cliffs. Following the cliffs northward to Australia's most westerly landfall at Steep Point and crosses part of Dirk Hartog Island. Keep you eye out for marine life.
Whale Shark Swim (Exmouth )
Adult: $475.00
Child: $350.00
Undertake the most amazing experience on the Ningaloo Reef with this whale shark experience of a lifetime – the chance to get up close and personal with the world's largest fish. This whale shark swim gives you the opportunity to immerse yourself in the crystal waters of Ningaloo Reef and swim alongside these gentle giants as they cruise the waters of Western Australia's north west cape. A Whale Shark Swim at Ningaloo Reef is a giant tick off your travel experience and dream destination bucket list!
NOTE: This activity is recommended for strong swimmers only.
Willie Creek Pearl Farm Tour (Broome)
Adult Price: AUD 145.00   Child Price: AUD 79.00
Located 38 kilometres north of Broome, the Willie Creek Pearl Farm is perfectly situated on the protected tidal estuary of Willie Creek. A natural harbour, the warm azure waters of the creek provide a perfect growing environment for the Pinctada maxima oyster and produces world renowned South Sea Pearls. At Willie Creek Pearl Farm you will gain a fascinating insight into the world of cultured pearling. On board our boat you will learn about modern pearling techniques and after refreshments your guide will demonstrate the intricate process of cultured pearling including the seeding of a live oyster shell.
Art-Rageous Bus Tour (Broome)
Adult: $135.00 AUD
Child: $35.00 AUD
Broome and Around brings you some of the best of Broome's Art and Culture in a unique 4-hour tour. You'll get to experience Indigenous, traditional Australian, and Contemporary art in so many mediums including, paintings, artwork, prints, fabrics, soaps, textiles and art gifts and crafts. You'll learn more about the Yawuru people, culture and traditions and finish the day by enjoying hand-crafted gins and spirits at Broome's favourite distillery. We'll take care of all the transport, including pick up and drop off and include food platters, bubbles and a gin and tonic of your choice. All you need to do is slip into Broome time!
Dinosaur Adventure Tour (Broome)
Adult: $233.00 AUD
Child: $124.00 AUD
Immerse yourself in the beauty, history, culture, wildlife and scenery that Roebuck Bay has to offer. Stand in 120 Million year old dinosaur footprints on a stunning secluded beach while learning about Broome's prehistoric past. Sip sparkling wine and enjoy gourmet platters whilst cruising the creek inlets spotting marine animals and exotic birds. Enjoy a fully guided tour with informative and entertaining commentary on-board our modern, and comfortable touring vessel "Brahminy Kite". This is followed by an indulgent five course tapas meal and cocktails at our exclusive, spectacular beach-side venue. Not into Dinosaurs? – No matter, there is something for everyone on these tours. Think of it as indulgent cruising with a unique, adventures twist. Exceptional beach-side venue to start and finish your tour with a well stocked bar on site.
Flavours of Broome (Broome)
Adult: $150.00 AUD
Child: $50.00 AUD
Slip into "Broome Time" and let us take care of the transport while you spend the afternoon savouring the flavours of local brews and fresh produce at the most iconic venues in Broome. Our locally guided Broome restaurant-hopping tour includes; share plates, beer paddles, White Pearl Gin & tonics, and oysters to sample during your Oyster Masterclass! Bubbles and pearl appreciation at Willie Creek Pearl Showroom. You'll meet our local brewers & distillers and learn about their Broome-inspired food and drinks! While also discovering the best of Broome award-winning restaurants, you'll be in pole position for sunset cocktails overlooking our famous Cable Beach. Now that's living the dream.
Incredible Islands Tour (Broome)
Adult: $875.00 AUD
Child: $875.00 AUD
Departing Broome, track over the Chinatown and Roebuck Bay before heading to the Dampier Peninsula. View the ancient Kimbolton Ranges and the vastness of King Sound. Fly over the '8th Natural Wonder of the World' and witness astonishing rapid tidal movements unique to this region at the Horizontal Waterfalls. Marvel at the hundreds of islands that make up the Buccaneer Archipelago including Cockatoo Island and Koolan Island. ​Get an aerial view of Cape Leveque, witnessing the stunning red cliffs that meet the white sand and crystal clear ocean. Land at Australia's oldest family owned and operated pearl farm at Cygnet Bay for a delicious breakfast or lunch and time to relax by the pool. Take a guided pearl farm tour learning the history of pearling and the methods of cultivating these beautiful and sought after jewels. Return to Broome via the coast flying over Pender Bay, Beagle Bay, Carnot Bay, James Price Point, Willie Creek and Cable Beach.
Small Bar Walking Tour of Chinatown (Broome)
Adult: $120.00 AUD
Child: $120.00 AUD
Your guides Chris and Robyn have lived in Broome since 1992 and will give you a unique insight into Broome as we take a leisure­ly stroll around the new­ly revi­talised Chi­na­town precinct, stop­ping for refresh­ments along the way. Salty Plum Social small bar walk­ing tour of Chi­na­town. Walk with us as we take you on a his­tor­i­cal walk­ing tour of Chi­na­town Broome. We'll take you to three of our favourite small bars in Chi­na­town for a drink and canapes at each venue. This is a 3 hour evening tour of the Chi­na­town precinct. You will be walk­ing for half the time and sit­ting social­iz­ing and chat­ting for the oth­er half. In total we walk about 2 km.
Snubfin Dolphin Morning Eco Cruise (Broome)
Adult: $135.00 AUD
Child: $85.00 AUD
Relax on a morning discovery as we search for one of Australia's largest populations of snubfin dolphins and an array of marine life in Roebuck Bay. Spot snubfin dolphins or bottlenose dolphins socialising and having fun in the sun on your morning dolphin cruise. Depending on the seasons, you could catch a glimpse of the graceful manta rays or watch turtles bobbing their heads on the water.
Sunset Cruise (Broome)
Adult: $135.00 AUD
Child: $85.00 AUD
Fancy the warmth and beauty of a magnificent Broome sunset aboard our beautifully appointed 50foot catamaran 'Orcaellla'? Why not join us on a 3hour Broome sunset cruise? Meet our friendly team and enjoy delicious canapes as you cruise along the stunning coast. Purchase a beverage from our licensed bar or BYO drinks. Our crew will chill and serve them for you on board. Jump into our boom net to add some extra fun to your afternoon. Your friends and family will love it! On your return, listen to some chilled music and embrace the beautiful backdrop of the Kimberley sunset with your loved ones.
Sunset Whale Watching (Exmouth)
Adult: $96.00 AUD
Child: $70.00 AUD
Relax and enjoy the ride on one of our big stable boats as we travel from Exmouth Marina to cruise the Gulf waters. Witness the whales from August thru Mid October in their natural habitat looking for Dolphins & Turtles too. Watch from our walk-around deck, with the back drop of the magnificent Cape Range at Sunset, whilst enjoying a complimentary glass of WA Bubbles! With the BIGGEST a & Most STABLE Boats in Exmouth Your tour will have ample space to get the best view.
Whale Watching Sunset Cruise (Broome)
Adult: $160.00 AUD
Child: $95.00 AUD
Our Broome sunset cruise takes you on a 4.5 hr tour aboard our beautifully appointed catamaran 'Orcaella'. With shaded decks and comfortable seating 'Orcaella' is a fantastic stable platform. Our vessel provides great vantage points, giving you uninterrupted views of the world's largest population of humpback whales. Cruise the stunning waters of Broome, in search for these majestic whales. Come face to face with them in the friendliest way possible. Respect for the ocean and its marine life is of paramount importance to us. We take great care of you and our whales. Discover why Broome is such an incredible winter holiday for humpback whales. Learn all about their breeding and mating behaviours from our informative and commentary. Immerse yourself in boundless natural beauty as our crew spoil you with delicious nibbles all afternoon.